Yonex Voltric 11DG Slim badminton racket is made from Super High Elasticity High Modulus Graphite, making it possible to withstand higher tension than any other Yonex rackets. Experience Yonex with higher tension up to 35lbs with this racket!
This series of Yonex DG (Durable Grade) SLIM rackets are slimmer in the frame which makes them more aerodynamic with air resistance reduced, resulting in stronger and more intense shot.
Combining incredible power and fast racket handling for the first time, VOLTRIC is the perfect racket for players seeking exceptional 'all-round' performance.
VOLTRIC's exclusive TRI-VOLTAGE SYSTEM helps to achieves the combination of heavy smashes and speedy racket handling.
Yonex Voltric 11DG SLIM Specifications
Frame Material

H.M. Graphite/ULTRA HMG/Tungsten

Shaft Material

H.M. Graphite

Flex

Medium Flexible (Measured Medium Stiff)

Weight

88g +/- 2 (3U-G5)

Length

675mm +/- 2

Max Tension

35 lbs

Balance Point

310mm +/- 3 (Head Heavy)

Grommets

76

Color

Spark Gold

Made in

Taiwan
Special Features
Slim Width Frame
The slim frame is designed to reduce drag on the frame during straight on swing or hit as it provides smaller flat surface compared to ordinary racket for better speed, fast swing-through and the quicker maneuverability.
Tri-Voltage System
Traditionally, extra weight at the top of the racket frame has increased hitting power but reduced the speed of racket handling. In contrast, a lighter top to the frame increases speed but causes a loss of hitting power.
For the first time, the new TRI-VOLTAGE SYSTEM successfully combines the contrasting characteristics of exceptional power and great handling. YONEX has developed a racket which achieves the combination of heavy smashes and speedy racket handling.
Voltric is Power: The stiff racket structure at the top of the frame allows the head to bend in a very controlled way and hold shuttles on the string bed for longer. The thin frame sides then allow the frame to flex more and transfer more energy to the shuttle. This combination allows you to smash with instant power.
Voltric is Agility: In VOLTRIC, the weight is balanced on the top of the frame and at the joint area which allows good handling while also maintaining power. The thin sides of the frame and at the top of the head reduce air resistance and improve the handling even further. Players can now make a full swing even during short range rallies as VOLTRIC responds instantly to even subtle movements.
Tungsten Infused Grommet
Maximize the contact time between shuttle and string. This combined with the TRI-VOLTAGE SYSTEM ensure that the frame flexes in a controlled way, holding the shuttle on the string bed for longer for maximum transfer of power to the shuttle.
Isometric
The square-shaped ISOMETRIC frame shape is designed to keep vertical strings at a similar length, as well as the horizontal strings to produce an expanded sweet spot in all directions.
Aero + Box Frame
Combines solid hitting feel and quick swing.
Build-in T-Joint
Moulded deep into the layers of graphite where the frame connects with the shaft, the Yonex Built-in T-Joint creates a durable and high-strength one-piece frame that is torque-free.
Control Support Cap
The control support cap provides an 88% wider flat surface compared with an ordinary racket for easier gripping, fast follow-through and the sharpest maneuverability.
Racket Specifications
Frame
H.M. Graphite/ULTRA HMG/Tungsten
Shaft
H.M. Graphite
Flex
Medium Flexible (Measured Medium Stiff)
Weight
88g +/- 2 (3U-G5)
Max Tension
35 lbs
Length
675mm +/- 2
Balance Point
310mm +/- 3 (Head Heavy)
Grommets
76 holes
Shaft Diameter
7.1mm
Color
Spark Gold
Special Features
Reinforced Structure Frame; Slim Width Frame; Tri-Voltage System; Tungsten Infused Grommet; Isometric; Aero + Box Frame; Build-in T-Joint; Control Support Cap;
Customers Who Bought Also Bought
What People Are Saying...
Apacs EdgeSaber 10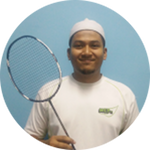 This was the first time that i made any purchase from BB. To be honest, i really liked the interface of the web. very user friendly. The service and the racquet was in a very good condition on delivery. will be sure to come and buy again.Keep up the good work BB."

Wafi Bizami
, Malacca