Bringing Apacs Foray Series Back To You.
Now You can execute that sudden attack on your opponent.

Get EXTRA 10% Discount when you purchase Apacs Foray 68 & Foray 70 rackets using
PROMO CODE :
FORAY
Valid Until
30th June 2019
What People Are Saying...
Apacs Badminton S...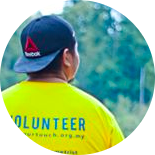 I purchase APACS Shoes from Badminton Bay. The service and staff there really good and they know what there were doing. For those who were looking to buy anything from Badminton Bay I really recommended. 10/10"
Farhan Slyrex
,