The Astrox 77 Play badminton racket is developed in Japan and made in China. This badminton racket has similar racket frame design and cosmetics as the Yonex Astrox 77. It is an affordable stylish badminton racket suitable for any beginners to intermediate players.
Like the Yonex Astrox 77, Yonex Astrox 77 Play badminton racket is built using with Rotational Generator System.The counter balanced head adapts to each shot, helping you to control the drive and attack the opposition with increased acceleration, steeper angle and power on the smash.
This racket helps you to lead the attack with increased power and control.
Smash power up 7.1% (The difference between the initial speed and the final speed is minimized in order to be launched strongly)

Smash angle is 2.3° steeper

*Tested by Yonex (Measurements by swing robot)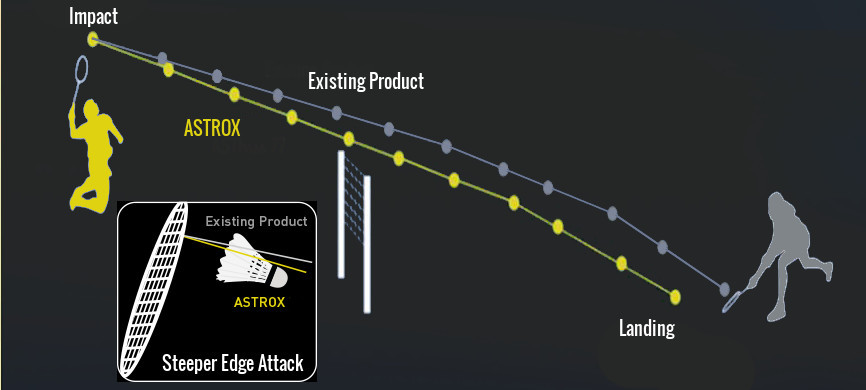 Yonex Astrox 77 Play Specifications
Frame Material

H.M. GRAPHITE

Shaft Material

H.M. GRAPHITE

Flex

Flexible

Weight

84g +/- 3 (4U-G5)

Length

675mm +/- 2

Max Tension

28 lbs

Balance Point

298mm +/- 5 (Head Heavy)

Grommets

76

Color

High Orange
Special Features
Rotational Generator System
Weight Distribution - By applying the counterbalance theory, weight is distributed throughout the grip end, frame top and the joint for maximum control. The transition to the next shot can be performed smoothly with a rapid succession.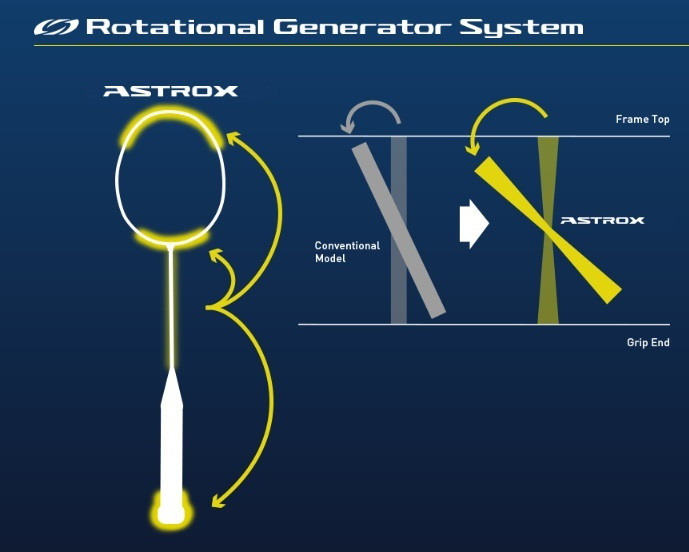 Aero + Box Frame
Combines solid hitting feel and quick swing.
Isometric
The square-shaped ISOMETRIC frame shape is designed to keep vertical strings at a similar length, as well as the horizontal strings to produce an expanded sweet spot in all directions.
Slim Shaft
Cutting edge NANOMETRIC carbon technology is used to produce an ultra-thin, ultra-tough, aerodynamic shaft, created for a stronger and more intense shot.
Racket Specifications
Frame
H.M. GRAPHITE  
Shaft
H.M. GRAPHITE  
Flex
Flexible
Weight
84g +/- 3 (4U-G5)
Max Tension
28 lbs
Length
675mm +/- 2
Balance Point
298mm +/- 5 (Head Heavy)
Grommets
76
Shaft Diameter
7.2mm
Color
High Orange
Special Features
Rotational Generator System; Isometric; Slim Shaft; Aero + Box Frame;
What People Are Saying...

I'm more than pleased with the products I bought from you(badmintonbay) and also very happy with the service you provided. My order arrived on time and all goods were received in very good condition.
The sad thing though was that my Tantrum 200 was broken during our Independence Championship. Not by me but by one of my young players who asked to try out my racket, Anyway the other 2 are still okay."

Henry B.
, Kiribati