This high quality neoprene ankle support provides support and compression to weak ankle joints, while helping to reduce swelling and stiffness after injury. It fits comfortably in any type of athletic or street shoe. The LP Ankle Support is made from the highest grade closed cell neoprene, covered with stretch nylon on both sides for comfort. Neoprene is the ultimate material for compression and heat retention, and this support retains body heat to warm the ankle and increase blood circulation. This combination provides a therapeutic treatment to muscle and joint pain or injury.
Provides support and compression to weak ankle joint.
Helps your ankle to heal faster following injury and relieves pain due to strains or stiffness.
Open toe and heel design for comfort and easy application.
Indications
Content
1 piece LP Support Ankle Support 757 With Velcro Fasteners (Black

colour

)
One Size Fit All
Measure circumference just above ankle bone.
One size 19.1 - 29.2cm (7.5-11.5")

PRODUCT FEATURES :
| | |
| --- | --- |
| | Hook and loop closure design fits most ankle sizes. Open toe and heel design allows full range of movement. Helps ankle heal faster following injury. Relieves pain due to strains or stiffness. |
Composition
75% Closed cell neoprene foam, 25% Stretch nylon.
Washing Instruction
Hand wash in cold water with mild soap. Rinse thoroughly.
Air dry at room temperature. Do not machine wash and dry.
Should a rash or irritation occur, discontinue use and consult your physician.
What People Are Saying...
Apacs EdgeSaber 10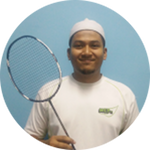 This was the first time that i made any purchase from BB. To be honest, i really liked the interface of the web. very user friendly. The service and the racquet was in a very good condition on delivery. will be sure to come and buy again.Keep up the good work BB."

Wafi Bizami
, Malacca