Stainless steel straight stringing awl tool for tennis/badminton racket.
Large Ergonomic ABS plastic handle for comfortable and convenient use.
Effectively help you guide the string pass through the eyelets/grommet
Specification:
- Total Length: 18cm
- Needle Length: 8cm
- Handle size: 10cm x 4cm x 4cm
- Color: Black
- Weight: 55g
- Hardness: HRC 25±2
What People Are Saying...
Apacs EdgeSaber 10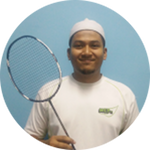 This was the first time that i made any purchase from BB. To be honest, i really liked the interface of the web. very user friendly. The service and the racquet was in a very good condition on delivery. will be sure to come and buy again.Keep up the good work BB."

Wafi Bizami
, Malacca