Specially selected Premium Feathers.
Offers precise speed and provides durable play.
Some say this can be compared to RSL Supreme Tourney.
Specifications:
Brand:

Linton (Genuine)

Model: Titanium

Speed : 77 (3)

Quantity:

1 Tube (12 pieces shuttlecock)
What People Are Saying...
Apacs EdgeSaber 10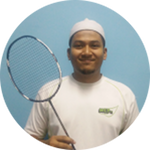 This was the first time that i made any purchase from BB. To be honest, i really liked the interface of the web. very user friendly. The service and the racquet was in a very good condition on delivery. will be sure to come and buy again.Keep up the good work BB."

Wafi Bizami
, Malacca